Staying for Good
SUPPORTING OUR COMMUNITY
Being a part of the Y means so much more than participating in our programs and services. The Y is not a building or a place; it's a movement of people united in our work to strengthen communities. As a nonprofit committed to helping all of us be our best selves, the Y has a history of stepping up when our neighbors need us.
Despite unprecedented and difficult circumstances, we are working tirelessly to reimagine our branches and pivot our programming to support our community's most urgent needs and long-term well-being. We are proud of the way our Y has expanded how we serve.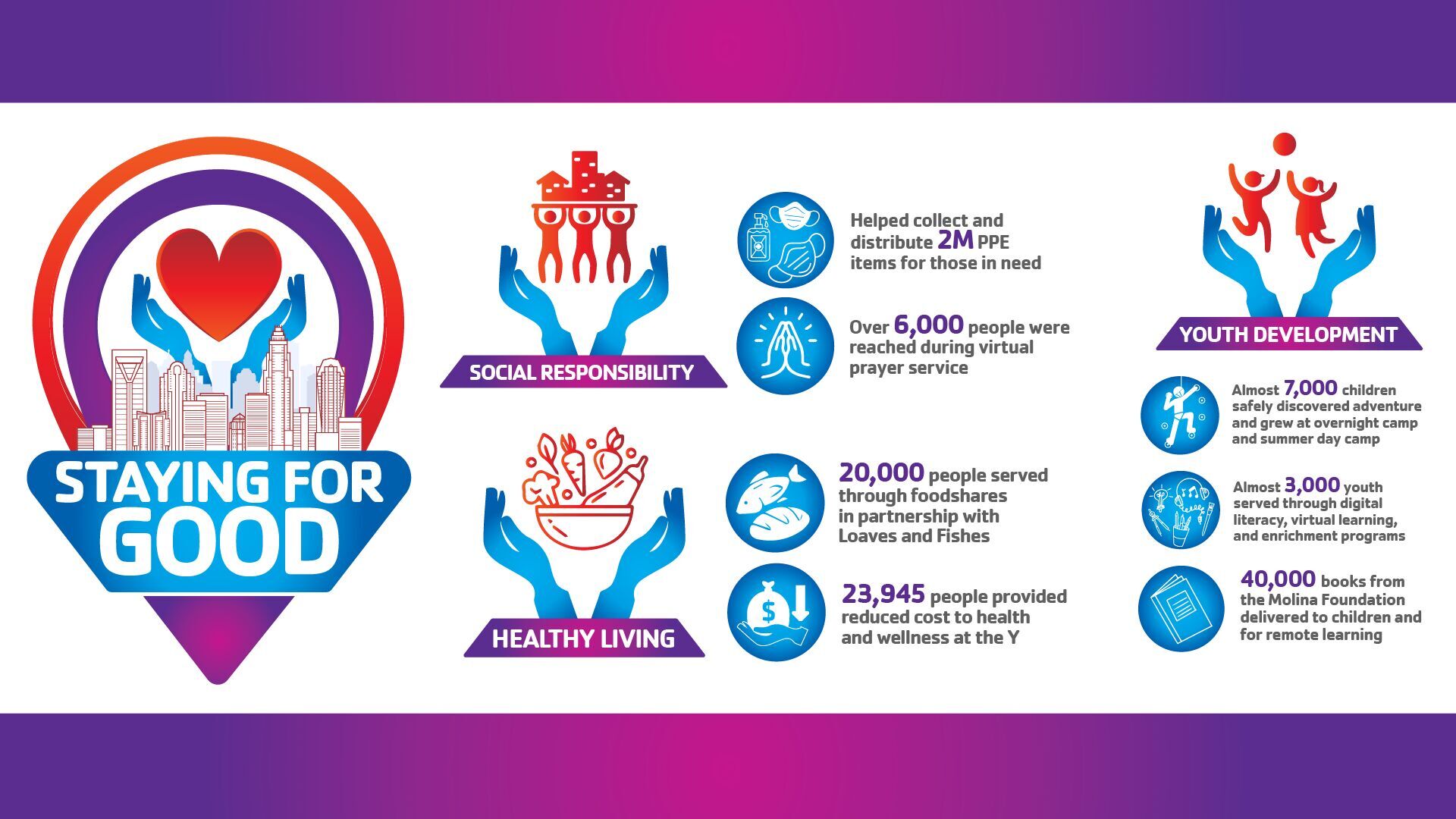 Standing Strong with Our Community
Fueled by the generosity of Margaret and Smoky Bissell, nine YMCA branches offered free childcare to 365 children of essential Atrium Health and Novant Health employees.
YMCA Camp Thunderbird launched an innovative partnership to serve 320 Charlotte Rescue Mission residents struggling with addiction.
Multiple Y locations served as drop-off points for personal protective equipment (PPE) for first responders and hosted community blood drives.
Partnering with Atrium Health, our YMCAs and Wellness on Wheels mobile health unit hosted 18 coronavirus testing sites (2,375 individuals tested) and helped distribute over 2 million free masks to our community.
Our teams created and delivered 800 teen care packages to homeless community members and 200 gift packages to families seeking extra support over the holidays.
In partnership with Lowes and the Panthers, our association distributed 350 Christmas trees to families in the Beatties Ford corridor.
Our 2020 Virtual Prayer Service reached over 6,000 people and had over 19,000 impressions.
A total of 168 Parents as Teacher (PAT) families were served virtually since March 2020. 30 families received iPads to enhance the PAT virtual services (10 with Wi-Fi access), 180 families received assistance with Christmas gifts for their children and 39 PAT children graduated our virtual programming in 2020.
269 adults learned English virtually and in-person in partnership with Forest Hill Church.
23,945 people were provided reduced cost to health and wellness at the Y.
Building the Next Generation of Leaders
Powered by the City of Charlotte, five YMCA branches transformed into youth and teen opportunity centers with a focus on health equity, job skills training and enriching summer experiences, including providing 10 weeks of swim lessons to 554 children. In 2020, our team served 252 Level Up participants and 700 individuals through teen enrichment programming.
With support from Foundation For The Carolinas and United Way of Central Carolinas, multiple YMCA locations and partner sites welcomed more than 4,500 day campers and 2,400 overnight campers with an increased emphasis on academic support and social emotional well-being.
In partnership with local churches, we hosted 90 children at summer reading camps designed to support students at risk of falling behind.
Our Y Readers program transformed into a virtual learning experience, providing 698 students with daily literacy tutoring sessions, as well as home resource learning kits filled with school supplies, books and educational activities.
Y Achievers helped connect high school seniors to summer employment and paid internship opportunities, facilitated virtual college prep sessions and distributed sendoff kits – dorm room supplies, toiletries, books and a laptop – to help teens confidently navigate the transition to college.
Our YMCAs welcomed 1,195 participants for School Days+, our virtual learning program developed in response to school systems closing.
40,000 books from the Molina Foundation were delivered to children in our remote learning programs and to children in the community.
Through Vision to Learn, we screened 205 students and 59 students received glasses based on need.
In partnership with Samaritan's Feet, we provided 568 children in the West Blvd. corridor a new pair of shoes.
Navigating the Digital Space
In partnership with Queens University's Knight School of Communication and Digital Charlotte, our Y launched the Online Health Skills & Connections Program in 2019 to support senior adults as they navigate the digital space. Aimed at improving their ability to confidently and safely locate health information and community resources online, this course teaches seniors how to connect virtually with family and friends using digital platforms.
After completing the course, 96% of participants (average age 73.5) said they know how/where to find helpful health resources online, and 90% felt confident using this information to make health decisions.
Eliminating Food Insecurity
Working alongside Loaves & Fishes, our Y helped provide critical access to fresh produce, meat, dairy and bread through Pop Up Food Shares.
Our critical partnership provides nutritionally-balanced groceries to individuals and families living in the YMCA of Greater Charlotte footprint including the West Boulevard food desert and priority zip codes. Families receive a week's supply of groceries, along with fresh produce, meat and dairy.
More than 20,000 individuals representing 5,000 families were served through FoodShares in partnership with Loaves and Fishes since July.
In addition to the FoodShares, the Y has also provided nurture through food in the following ways:
3,976 meals were served through Family Food Truck Nights and allowed families to take home meals to enjoy when they picked up their student(s).
Within the communities surrounding Simmons, Johnston, Keith Family, McCrorey and Stratford Richardson YMCAs, we provided 1,150 meals to families of teens who participated in our Level Up programming, many of whom were multigenerational.
607 vegan food boxes were delivered to the immigrant and refugee community near the Simmons YMCA.
700 Thanksgiving meals were served in partnership with Mac's Speed Shop and Charlotte Rescue Mission.