YMCA Camp Harrison Staff
YMCA Camp Harrison employs highly skilled and qualified individuals who share the common goal of providing an exceptional camp experience. Our year-round staff and summer camp counselors are highly motivated, dedicated and look forward to hosting guests as soon as they arrive.
Our staff members are expected to be of strong moral character, have a passion for working with youth, possess a high level of energy and enthusiasm and exemplify our character traits of respect, responsibility, caring, honesty and faith in God. Our seasoned staff is trained first and foremost in safety. All camp staff participate in annual immersive training experiences before campers arrive.
Michael Landry Executive Director
"Landry" joined the YMCA Camp Harrison family in January 2020. A graduate of Mississippi State University, he has been working with YMCA camps for more than 20 years. Landry enjoys working with our staff and board to foster the growth of YMCA Camp Harrison and it Christian mission. In his free time he enjoys cooking, wood working and spending time with his wife Jennifer, and two girls, Ainsley and Annabelle.
Bridgett Griffin Associate Executive Director - Conferences & Retreats
After spending four years a park ranger on the Blue Ridge Parkway, Bridgett joined YMCA Camp Harrison in 2010. A Wilkes county native, Bridgett has experience in landscaping and is a lover of animals. She earned an associate's degree in Horticulture from Wilkes Community College. This led her to completing her bachelor's degree in Biology and Recreation Management from Appalachian State University. Bridgett and her husband Jason enjoy traveling and all things outdoors.
Nevin McCoy Associate Executive Director - Overnight Camp
Started his journey in the YMCA as a young man at age 10 at YMCA camp Cherokee and YMCA camp Thunderbird. His First Job with the YMCA was Day camp counselor summer of 2006 at camp Thunderbird. Then he graduated from Hocking College with a degree in Ecotourism and adventure travel. He spent most of his full-time YMCA career In Texas with Dallas YMCA Camp Grady spruce. He is excited to be back in the association where it all started. He is excited to have the opportunity to give back to an organization that gave him so Much. He brings his wife Lyndsay McCoy, Camp Harrison Alumni from 2008, his 2 sons Gavin & Grady, and a menagerie of pets.
Sallie Renfrow Office Manager
Sallie attended Caldwell Community College and Technical Institute in Hudson, NC and earned an Associates of Fine Arts in Percussion. After having had the opportunity to lead worship for some events at YMCA Camp Harrison, she fell in love with the campus and was interested in joining our staff team in 2018. Sallie is very involved with the praise team at her church, enjoys the outdoors and loves her fur babies, Gatsby and Regina.
Mike Roberts Facilities Director
Mike came to YMCA Camp Harrison with a background in both construction management and Christian ministry. In addition to overseeing the facilities team at YMCA Camp Harrison, Mike is actively involved in the community, which includes serving as an associate pastor at a local church. Mike lives in North Wilkesboro, NC with his wife, Nicole, and their four children, Ava, Allyson, Amelia and Finn.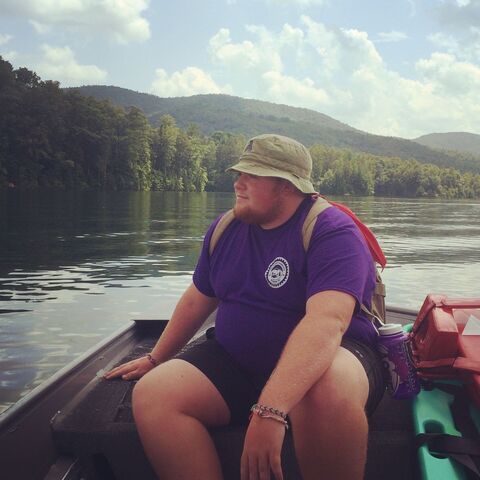 Jason Baker Camp Director
Raised in the mountains of Nathan's Creek in Ashe County, NC. Jason has been a camper, summer camp counselor, and now director of the Summer Camp program at Camp Harrison. Jason is extremely passionate about sharing the love and grace that Christ provides alone to campers, counselors, and visitors that come to Camp Harrison. Hobbies for Jason are spending intentional time with family and friends next to a camp fire, small town wandering, Carolina Panthers football, Braves baseball and watching the race with friends. Camp Harrison has always been a second home to Jason and he looks forward to spending more summers at this very special place.
Binx Staff Morale Officer
Binx is our Norwegian Forest Cat who was found near our kitchen dumpster many years ago. He now resides at our camp office area and loves the fresh mountain air. Every month, Binx maintains the accolade of Employee of the Month serving as the best office greeter YMCA Camp Harrison has ever had on board. In his spare time, Binx guards the office, even after office hours.
Bob Feemster - Facilities Staff
Nathan Bronkowski - Facilities Staff
Gail Shew - Facilities Staff
Cyndie Feemster - Office Assistant
Ruthie - Camp Dog